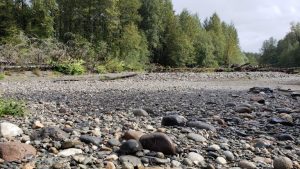 What is the 'Stilly'?
STILLAGUAMISH COUNTRY CLUB
Established 1924
The Stillaguamish Country Club was established in 1924 as a not-for-profit corporation and currently consists of approximately 95 acres located on Hwy 530, between Arlington and Darrington. The north fork of the Stillaguamish River is on one boundary and both French Creek and a Snohomish County Rails to Trails conversion trail bisect the Club.
The Club was created primarily for recreational and relaxation purposes. Roughly half of the property is undeveloped forest land and the other half is divided into lots and assigned to members. Much of the forested space is classified as "Open Space" under Washington State law, for tax purposes and preservation. The real property not assigned to lots is commonly referred to as "community property" and is available for all members' recreational use. There are no man-made amenities, such as a clubhouse, swimming pool, golf course, or restaurant on the grounds.
Club membership is limited to 63 members and is available to either an individual or a married couple. Members do not own the land underneath their cabins. With the exception of about a dozen permanent residents, members use their places for retreat and recreation. Members pay yearly dues which cover such things as property taxes on all the land and the caretaker's house, the caretaker's salary and insurance. Members pay personal property taxes on their own cabin and improvements.
The Club provides minimal services. A resident caretaker lives on the premises in a house owned by the corporation. The gate at the entrance to the Club requires an access code to enter. Gravel roads and a small bridge are maintained by the Club.
As a private members-only organization, purchasing a cabin from an outgoing member is contingent upon being accepted for membership in the Club. This requires an application, sponsorship by two current members in good standing and an interview/approval process with a Membership Committee and the Board of Trustees.
The application process helps prospective members understand the nature-based orientation of the Club (not a typical "country club") and to realize that there are expectations of participation, (e.g. Board service, attending an annual meeting and the annual Work Day) plus rules and restrictions to this type of living situation that might not be encountered in private property ownership. There is a non-refundable application fee and a refundable membership deposit. The membership deposit fund is kept separate from the operating funds. The Club operates with a balanced budget.
The Articles of Incorporation for the SCC are on file with the Washington State Secretary of State. Rules of the Club include the SCC Bylaws, Standing Rules and Ground Rules, and a Rate Schedule of Fees, Fines, and Interest Rates, some of which are available on our Documents page. An elected nine-member Board of Trustees conducts administrative business for the corporation.
Additional Resources
Please contact the Club President with any questions.